You spoke and we listened! Last month, we posted "
The 3 Hottest Forbidden Love Make-Out Scenes,
" and many of you had your own picks for the best make-out scenes in your favorite dramas and movies found on Viki.
And we have to agree with your choices for the couples who steamed up the screen with their hot make-out sessions. Warning: the following is pretty hot! Proceed at your own discretion …
Coffee Prince — Episode 16
After Eun Chan (played by Yoon Eun Hye) comes clean to Han Kyul (played by Gong Yoo) that she is really a girl, she makes a decision to go to Italy to study to become a professional barista. But she rushes over to Han Kyul's house late one night in Episode 16, and the two can't keep their hands off each other.
Han Kyul and Eun Chan's hot kissing scene in Episode 16 of 'Coffee Prince'
Watch the episode below. The make-out session starts around 1:04:00.
Both Xin Yi (played by Chen Qiao En) and Cun Xi (played by Ethan Ruan) drink a little too much one night. Cun Xi goes into Xin Yi's room, thinking that it's the room of his girlfriend, Anna, and the two end up hot and heavy in the sack. In the next episode, Xin Yi finds out that she's pregnant!
A case of drunken mistaken identity in Episode 1 of 'Fated to Love You'
Watch the hot love scene at at 44:19 in Episode 1 below!
Lie to Me — Episode 8
Yoon Eun Hye seems to get a lot of action in her dramas. In this K-drama, Gi Joon (played by Kang Ji Hwan) plays a practical joke on Yoon's Ah Jung character, but the joke turns into hot, syrupy attraction in the infamous "coke scene" in "Lie to Me."
 A practical joke with a Coke bottle turns into a hot make-out session between Gi Joon and Ah Jung in 'Lie to Me'
Watch the scene at 34:51 in Episode 8 below!
I Need Romance — Episode 11
There are so many great make-out scenes in "I Need Romance" and its sequels. We've picked out your favorites from each of the series! First, the make-out scene in a car between In Young (played by Jo Yeo Jung) and Sung Hyun (played by Choi Jin Hyuk) from Episode 11 gets very steamy but then is cut short way too soon.
In Young teases Sung Hyun by making out with him in a car in Episode 11 of 'I Need Romance'
Watch the kissing scene at 2:56 in Episode 11 below!
I Need Romance Season 2 — Episode 1
Is this scene real or not? The steamy make-out scene in Episode 1 of "I Need Romance 2" between Seok Hyun (played by Lee Jin Wook) and Yeol Mae (played by Jung Yu Mi) turns out to be a part of a script that Seok Hyun wrote. The next-door neighbors have been in an on-and-off romantic relationship for 12 years.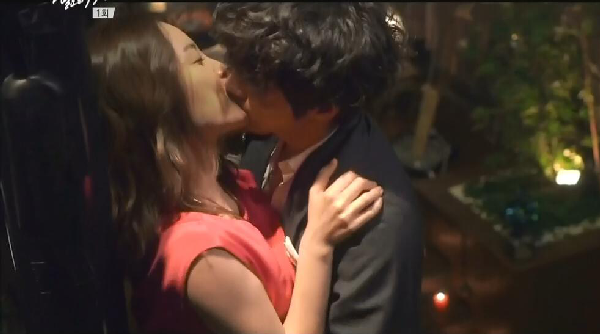 The steamy make-out scene between Seok Hyun and Yeol Mae in Episode 1 of 'I Need Romance Season 2'
Watch the super hot scene at 3:02 in Episode 1 below!
I Need Romance 3 — Episode 4
In the most recent season of the hit comedy series, 
Joo Wan (played by Sung Joon)
 wants to mend
Joo Yeon's (played by Kim So Yun) broken heart after she is dumped by her boyfriend. He confesses his feelings for Joo Yun, and the two share a knee-weakening kiss on the beach in Episode 4 of "I Need Romance 3." 
The early morning kiss between Joo Wan and Joo Yun in Episode 4 of 'I Need Romance 3'
My Queen — Episode 34
In this popular Taiwanese drama about a December-June relationship, Wu Shuang (played by Cheryl Yang) is a 33-year-old magazine editor who falls for 25-year-old Lucas (played by Ethan Ruan), who works as an assistant at the magazine. After overcoming many obstacles, including an overbearing mother and a 100 paddles to the rump at a religious temple that has to be seen to be believed, the unlikely couple finally end up together in the end. When they share a passionate kiss in the final episode, a number of meddling spectators make funny commentary as they watch from all angles!
The two stars are happy together at last in Episode 34 of 'My Queen'
See the hot kiss at 24:09 in Episode 34 (the series finale) below!
Don't see your favorite make-out scene on this list? Before you start complaining that we didn't include your favorite make-out sessions from "Naked Kitchen," "Lovers" and "La Dolce Vita," we saw your comments about these titles, and we have to agree that they were pretty hot. But unfortunately, these titles are not currently licensed to Viki, so we couldn't include them. But if there are any other great scenes from dramas or movies found on Viki that you thought were too hot to handle, let us know and we may do another sequel!
Some titles on Viki are not available in certain regions of the world. But Qualified Contributors (QCs) can view and contribute to most titles. Read
this blog post
 to learn how to become a QC.